School Lunch
School Lunches are freshly prepared and cooked on the premises by our resident cook. The lunch menus consist of a hot two-course meal, offering a choice of main courses, vegetables, salads and desserts.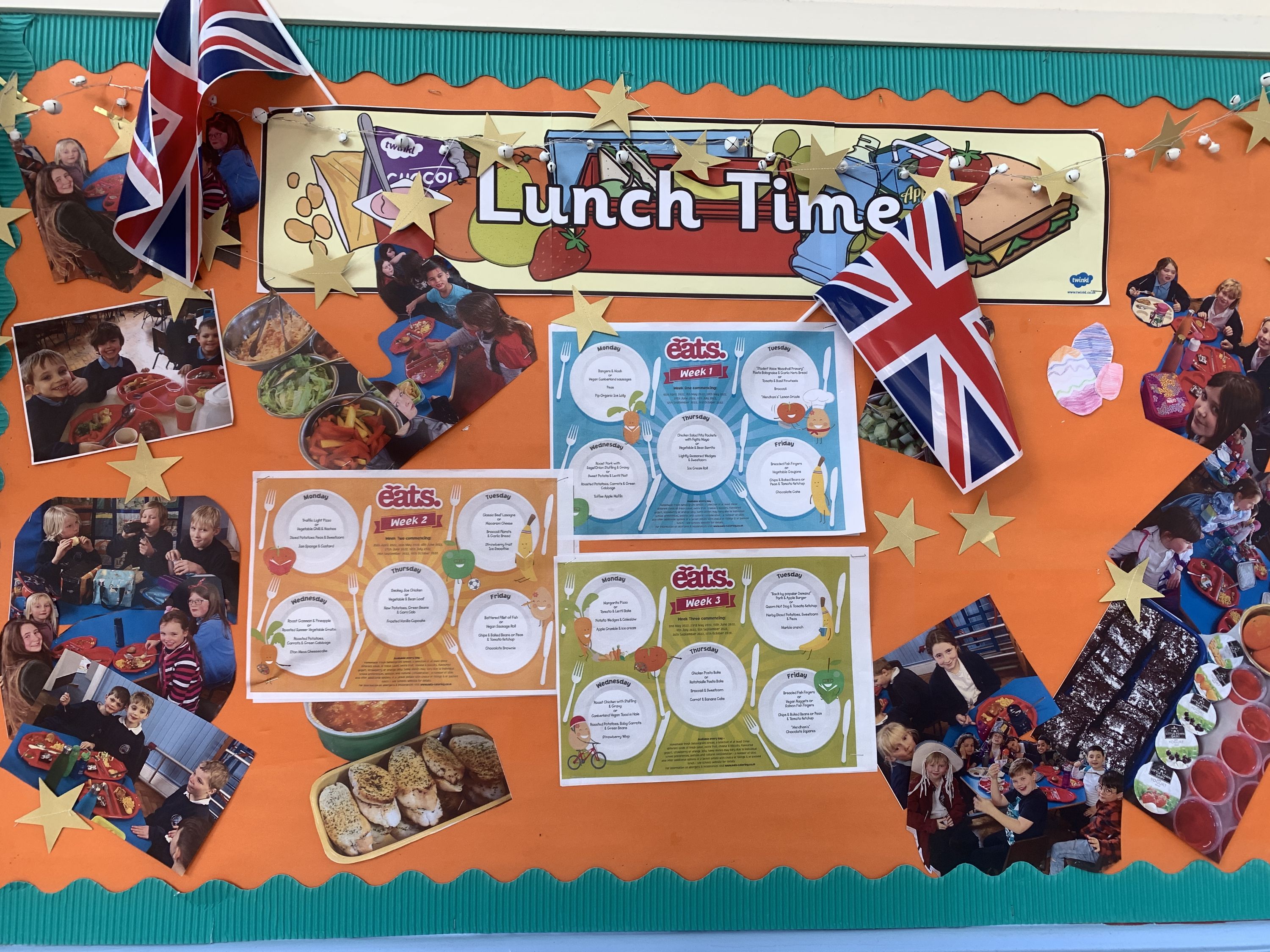 We are also able to offer the option of providing a school packed lunch for the same price as a cooked meal £2.35.
"EATS" is our Caterer of choice. We believe that school catering should be an integral part of school life and learning for all pupils forming the foundation of lifelong good health. The menus are traditionally prepared and use a high proportion of locally produced food. They are designed by school nutritional experts "Eats" to be tempting and healthy and offer choice for vegetarians with some special diets available. Occasionally these are changed to special themed menus.
Our school meals are excellent value, costing £2.35 per meal (which is exempt from VAT) £11.50 per week.
Our school menus fully comply with the latest food & nutrient standards and include a high proportion of homemade dishes, prepared using locally/regionally sourced produce.
Our meals still represent excellent value for money for a freshly prepared and tasty two-course cooked meal. A school lunch also compares well when you consider the time and cost of providing a cold packed lunch from home.
School lunchtime gives children a good opportunity to socialise, by sharing a table with children and teachers to enjoy a meal together.
Choosing a school lunch helps children by:
Providing a tasty, nutritious and great value for money meal (that meets the latest lunch standards).
Helping them to concentrate, learn and develop their social skills.
Providing a balanced diet and the chance to try new foods.
Enjoying their lunch in a safe and supervised environment with their friends.
Showing in school what we mean by a healthy and balanced diet.
Free school meals
Your child may be entitled to free school meals if you receive:
Income support.
Income based Jobseeker's Allowance.
Employment support allowance (income related).
Child Tax Credit, and you are not entitled to receive Working Tax Credit and you have a taxable income of less than £16,190 (from 6 April 2010) as shown on your Tax Credit Award Summary.
The Guarantee Element of the State Pension Credit.
Support under Part 6 of the Immigration and Asylum Act 1999.
If you feel your child should be entitled to a free school meal you can apply for free school meals online. Also please note that Bawdsey School receives £600 per year for every child registered with Suffolk County Council as qualifying for free school meals. The fact that you have registered puts your child under no obligation to take free school meals, and the school (appropriately) receives the annual £600 per pupil regardless of whether the meals are taken up or not.
Packed Lunches & Home Lunches
Alternatively, children may bring a packed lunch to School. (For safety reasons we ask that glass bottles are not brought.). Children may also go home for lunch following parental request.