Online safety information
Are you a child and do you need help?

Click on this logo for Childline to find out how to get support.
SPEAKING TO CHILDLINE
If you have an 02 mobile and need to speak to Childline, please dial 116 111 or chat to us online whilst 02 work hard to fix the problem.
When you call us on 0800 1111 you'll get through to a counsellor, they're there to listen and support you with anything you'd like to talk about. Or you can have a 1-2-1 counsellor chat online. Childline is open 24 hours a day, 7 days a week. So you can talk to us any time. But we might not be able to talk for as long when it's after midnight.
Or you can talk to us at school- we are there to help you!
E-Safety for advice and guidance for Parents/ Carers
The majority of primary school children regularly use the internet and more and more also have access to mobile phones - digital worlds they can explore without parental/ carer guidance or supervision. With this in mind, here are a few websites to support any parents/ carers interested in finding out more about e-safety to help their children.

The Child Exploitation and Online Protection (CEOP) includes advice about how to make a report if you or your child feels threatened or is bullied whilst online, click on the logo to visit their website.

For information about how to set parental controls and for technological advice, visit the parents/ carers page by clicking the logo above.

Click on the logo to go to this useful site which advises by age of child, and you can find out how to apply parental/ carer controls to all of your devices.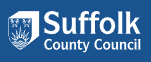 For more information from Suffolk County Council about keeping children safe online click on the logo to go to their website.
Click on the logos below to be directed to these websites for more Parent/ Carer guidance about being safe online.